Welcome to Trinity News
Event Alert Saturday, Dec 2 at 2 p.m. @ Trinity UCC Summerside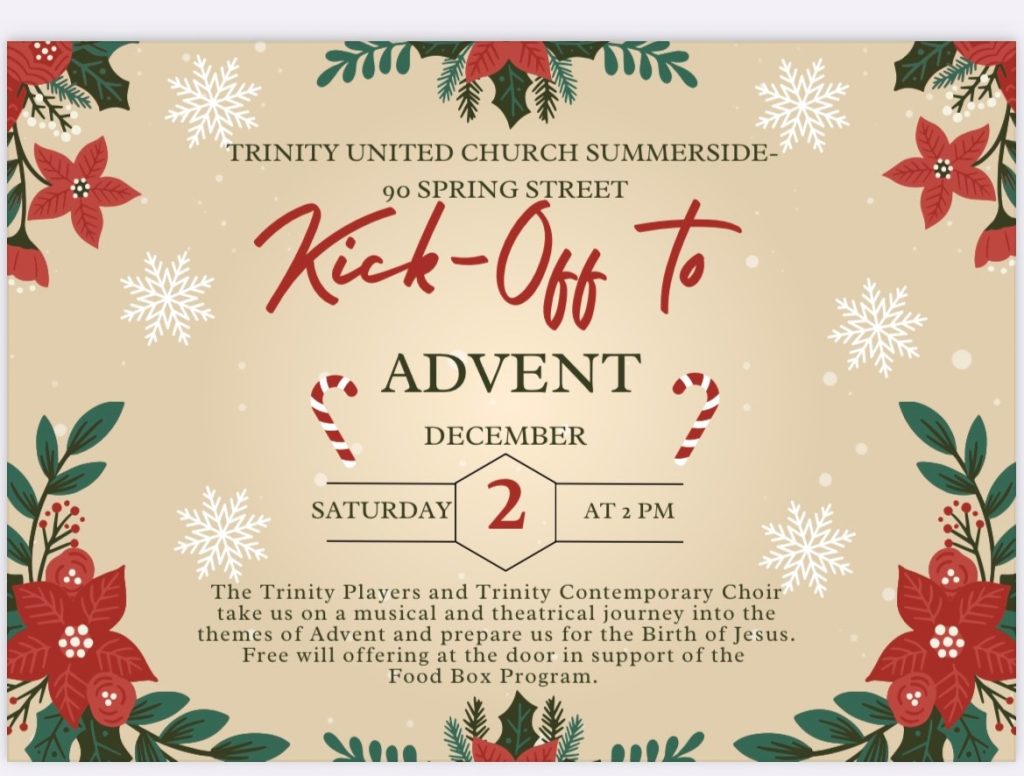 =-=-=-=-=-=-==-=-=-=-=-=-==-=-=-=-=-=-==-=-=-=-=-=-==-=-=-=-=-=
Monthly Announcements 
Printable Version Click Below 
What is Happening for Advent and Christmas…

Printable Advent Newsletter Click Here 
=-=-=-=-=-=-==-=-=-=-=-=-==-=-=-=-=-=-==-=-=-=-=-=-==-=-=-=-=-=
Advent Services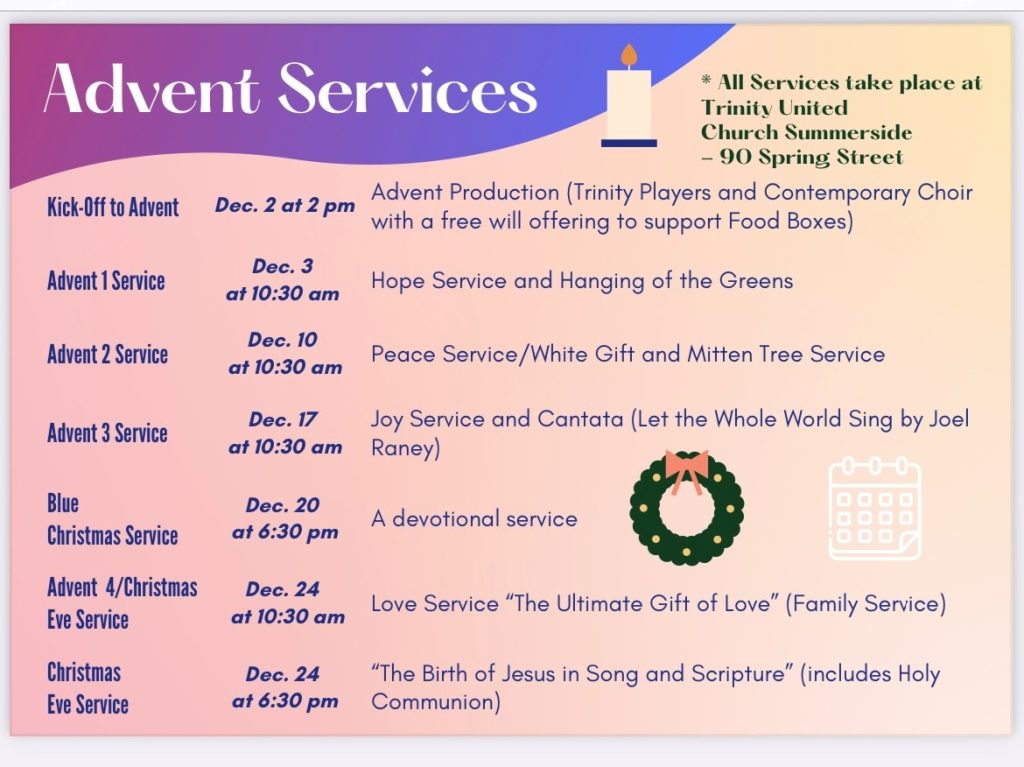 Outreach Alert (You Can Help)
2023 CHRISTMAS SOCK CAMPAIGN For the Feed my Sheep program.
We ask for donations of warm socks. (Men's, Women's, Children's) and some Christmas treasures. Some suggestions for stocking stuffers: wrapped candy, Kleenex, hand warmers, coffee gift cards, combs, nail clippers, razors, puzzle books, pens, boxed cookies, books etc. At the last Breakfast before
Christmas [December 23rd] they will be handed out.
Please have your donations into Trinity United Summerside (90 Spring Street) before December 10.
If you can help, call Heather Johnston 902-786-5309.
Learning, Community & Worship Opportunities @ Trinity
=-=-=-=-=-=-==-=-=-=-=-=-==-=-=-=-=-=-==-=-=-=-=-=-==-=-=-=-=-=
2022 ANNUAL REPORT 

=-=-=-=-=-=-==-=-=-=-=-=-==-=-=-=-=-=-==-=-=-=-=-=-==-=-=-=-=-=
Food Box Program
Donations of Non-Perishable Food Items are always welcome and needed.  Please drop off your donations in the Food Box bins at the entrances of the church or at the church office during office hours.
small jars of fruit jam and peanut butter or cheese spread
box of pancake mix and bottle of syrup
Instant mashed/scallop potatoes (stuffing mixes)
pasta/tomato sauce and ketchup
macaroni/spaghetti and Mr. Noodles and Kraft Dinner
canned fruit and canned vegetables canned meat and canned fish (very popular)
bottle of instant coffee (very popular) tea bags (sugar packets)
canned milk (very popular), juice (cartons, bottles and juice boxes)
soups, any kind   boxes/bags of crackers and cookies
snack foods; granola bars, pudding cups, fruit cups, apple sauce cheese/crackers, cereal bars, rice cereal treats.
personal hygiene items i.e., toothpaste, soap, Kleenex, toilet paper
=-=-=-=-=-=-==-=-=-=-=-=-==-=-=-=-=-=-==-=-=-=-=-=-==-=-=-=-=-=
You Are Invited to Worship 
1. Worship In Person every Sunday at 10:30 a.m. (90 Spring Street)
2. Click the logo below to watch worship live each Sunday at 10:30 a.m.

 

3. Video Recorded Worship
Watch Worship Services anytime throughout the week by visiting our Public YouTube Channel at Trinity United Summerside (and don't forget to subscribe… it is free).  
Click Here: https://www.youtube.com/channel/UCy0oP2hgj9Jln6IT_WnvpLg
4. Sermon By Phone
Trinity's weekly sermon is now available to listen to on your
phone! Call the toll free number, 1-877-200-7118. The recording is about 15
minutes and is updated each Sunday. There is no fee to listen. If you don't have a computer this is a great way to easily hear the Sunday sermon. For more information, contact the Church Office.

5. Podcast
Visit our Home Page and scroll to the bottom to listen to the full Audio of our weekly Worship Service:
=-=-=-=-=-=-==-=-=-=-=-=-==-=-=-=-=-=-==-=-=-=-=-=-==-=-=-=-=-=
Please Note:
All Worship Services at Trinity UCC Summerside are Livestreamed and posted to our YouTube Channel.  Links available on our website and on our FB page. 

 
=-=-=-=-=-=-==-=-=-=-=-=-==-=-=-=-=-=-==-=-=-=-=-=-==-=-=-=-=-=
How to give @ Trinity…
IMPORTANT INFORMATION ABOUT OUR GIVINGS 
At Trinity we understand this is a difficult time for many of our members and families. We encourage you to reach out if you need assistance in any way. If you would like to continue your financial support for Trinity at this time, please see the options detailed below.  Thank you.
QUESTION: What are the ways in which I can contribute financially to my church?
At Trinity United Church in Summerside we want to make offering easy for you with the following options…
OPTION 1- PAR
PAR – Pre Authorized Remittance
This is administered through the United Church of Canada. A donation is withdrawn from your chequing account on the 19th of each month. A PAR Authorization Form can be found on-line at The United Church of Canada website (https://www.united- church.ca) by clinking in the search button and typing PAR.
Or contact Wendy (Trinity Office Admin.) at admin@trinitysummerside.ca  or call 902- 436-3155 to have the form emailed to you.
A VOID cheque is needed to implement PAR and can be mailed to the church with the completed PAR Authorization Form. PAR can be started and stopped at your convenience.
OPTION 2 – POST DATED CHEQUES
Post Dated Cheques –
You can mail posted dated cheques to Trinity United Summerside. The mail is picked up daily and deposits will be done weekly.
Our mailing address is: Trinity United Summerside 90 Spring Street Summerside,
PEI, C1N 3E4.
Please be sure to include your contribution envelope #, if you know it.
Please do not send cash in the mail 😊.
OPTION 3 – ON OUR WEBSITE
Trinity Summerside UCC Website –
You can give directly to Trinity United Church through the website.
Just scroll down on the home page until you see the Donate Now tab. Click the tab and it will take you to the screen where you can choose Trinity as your charity. There are options to donate once or monthly.
OPTION 4 – E-TRANSFER
E-Transfer –
You can e-transfer your offering by using the following email: donate@trinitysummerside.ca
NOTE: Please indicate in the comments section of the transfer your name, the envelope number (if you know it), and the designation of the givings (i.e. general fund, M&S, local). E- transfers will be auto-deposited, no need for passwords.
For any question about this option please email Wendy at admin@trinitysummerside.ca Or call 902-436-3155.
Thank you for you continuing to support our Ministry and Blessings.
OPTION 5 – NEW CASH OPTION
Please contact the office at 902-436-3155 for more details and to make arrangements.
Note:
IN THE WELCOME CENTER AREA: The little wooden Benevolent Church is back. Should you wish to make a donation to the benevolent fund, it can be placed in the small wooden church on the welcome area of the sanctuary.  Be sure to indicate your name to receive credit for your contribution.
=-=-=-=-=-=-==-=-=-=-=-=-==-=-=-=-=-=-==-=-=-=-=-=-==-=-=-=-=-=
Starting in January 2024 – Updated Wedding Fees Document 
=-=-=-=-=-=-==-=-=-=-=-=-==-=-=-=-=-=-==-=-=-=-=-=-==-=-=-=-=-=
For all inquiries please contact
our Church Office:
The Business Office is open to the public Monday to Friday from 8:30 a.m. till 3:30 p.m.